"Our mission is to provide our customers with original, contemporary and striking designs combined with great customer service"
Tamara Design Co is a pattern design and textiles studio owned by Tamara Schneider.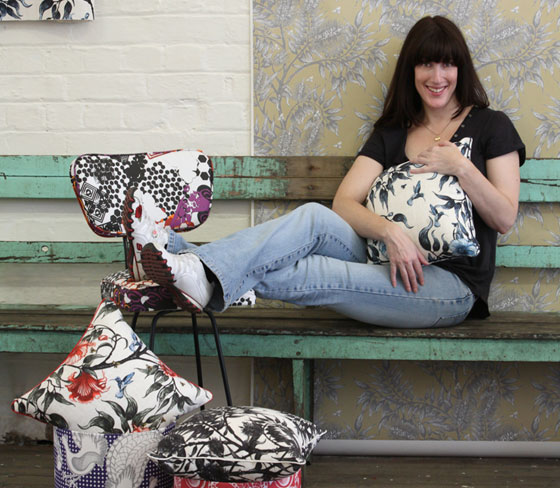 Our core business is the design of contemporary, illustrative and sophisticated pattern design for the interiors, fashion and home-wares  industries. The pattern design collections you see throughout our website are available printed on a carefully selected range of wallpaper and fabrics that are suitable for both commercial and residential interiors. They are also available under license.
Our range of cushions, art prints, tea towels, wallpaper and furnishing fabrics are available to purchase from our online store if you cant find what your looking for there please don't hesitate to get in touch, Tamara welcomes commissions and collaborations.
About Tamara
The spark for Tamara's obsession began while studying fashion design at Sydney's Whitehouse school back in the late 1990s, here Tamara was introduced to the wallpaper designs of William Morris and Florence Broadhurst, she quickly become enamoured by their use of intricate patterns and the consummate skill that was evident in their works.
Starting from a slow burn Tamara went on to study textile design and screen printing at RMIT, honing the skills she had developed during her earlier studies she went on to produce some truly innovative and remarkable designs. Her talent for pattern design was noted by several important figures in the Melbourne scene, resulting in Tamara being awarded an internship with UK's Timorous Beasties upon her graduation in 2010.
Her experience with Timorous Beasties further fuelled her obsession, and having decided that that was what she wanted to do with the rest of her life Tamara returned to Melbourne and founded Funky Wombat Textiles in 2011. In 2016 Funky Wombat Textiles was rebranded to Tamara Design Co.
Returning to her roots, in 2017 Tamara relocated her studio practice to Canberra just ten minutes away from her childhood home.
If you have any questions or are interested in stocking any of our products please contact us.