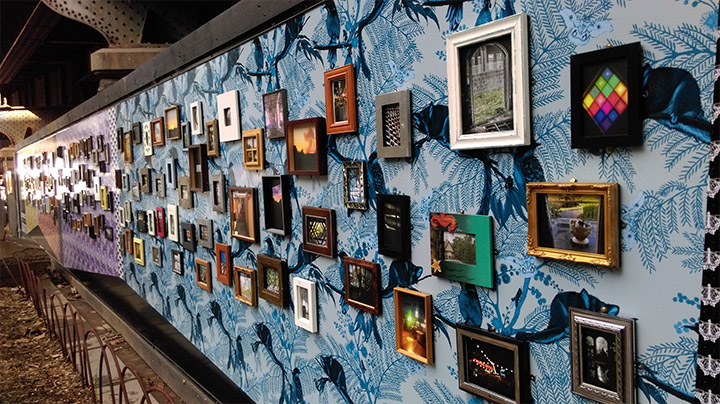 ABOUT THE PROJECT:
Frame Melbourne is a project run by landscape Architecture students from RMIT's School of Architecture and Design and Lendlease's Melbourne Quarter development. The students designed an interactive artwork gallery on a 17 metre long hoarding as part of Melbourne Quarter's site on the corner of Spencer and Flinders Streets.
The project captures the essence of life in Melbourne through photographs taken by the public looking through a window of a favourite space in the city.​ The images needed to include include the window frame and part of the room interior but no people. All the images needed to be hashtagged # FRAMEMELB then shared on Instagram and Facebook before being uploaded to the main website. A selection of these photographs were then printed and framed to form part of the exhibit.  Tamara design Co was asked to supply a number of wallpaper designs to be used as the backdrop for the photographs the students re-coloured the designs to suit their creative vision.

You are invited to check out the Frame Melbourne exhibition which will run thoughout 2017 at the temporary Melbourne Quarter Hoarding Gallery on the corner of Spencer and Flinders streets in Melbourne. Head on over to their website for more information.

​